Find professionals, not CV's
We work with people, not job offers. That's why we can make you a proposal in less than 10 days (seriously). And that's why we won't focus on finding acronyms, but rather on finding candidates with the right experience to meet your needs and, above all, people with concerns and values aligned with your goals and culture (again, seriously).
Transparent recruiting
Our business model is not about hiding candidates and companies from each other, but about offering value to both and being loyal to all. Our contracts are
public
, as are our sales figures. No surprises.
Our Contracts
The best way to demonstrate our commitment to our manifesto is to publish our contract template. That's why we've open-sourced it. The same terms and conditions for everyone, transparency instead of opacity.
You can download, follow and award stars to our contract template on GitHub.
Manage your talent
We can help you find and retain technical talent beyond the recruitment process. We can help you draft offers, define roles and categories within your organization, establish compensation systems, and design employer branding strategies. We've created campaigns like
Rumbo al Oeste
and
Operación Morriña
for our clients. No doubt about it, we can most definitely help you too. 😉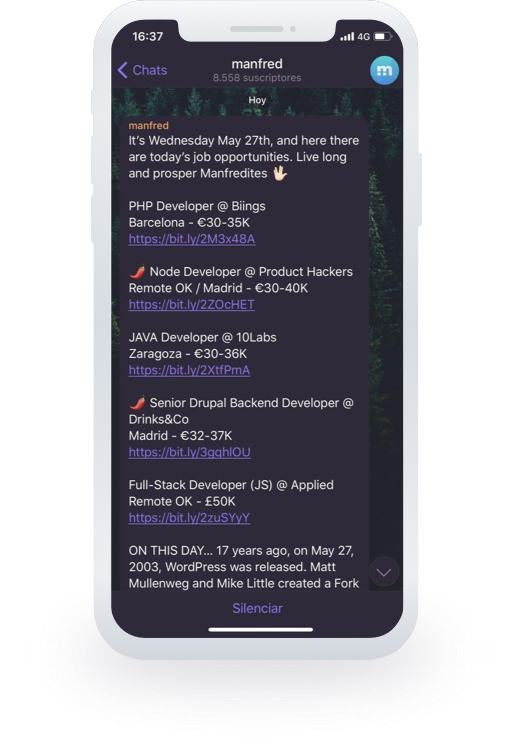 Manfred on Telegram
Publish your job opportunities on Manfred Daily
Manfred Daily is a Telegram Channel with over 14.000 subscribers, who receive 6 fresh job offers every day, including public salary packages.
Get in touch with us to reach our wide technical community.
What the FAQ?
Check out the FAQs below. If you still have questions, don't hesitate to get in touch with us.
Most importantly, we are candidate-centric, rather than offer focussed. The candidate is always our top priority.

The second major difference is that every decision we make is designed to develop the candidate's career over the long term, rather than simply finding the next job for the short term.

The third distinction is that we partner with companies to design offers—literally—. We do not treat our clients like sets of integrated technologies, rather we try to understand and accommodate them.

Manfred's services are always FREE for candidates.

We have a success-based model for employers: if a candidate accepts an offer through Manfred, and only in that case, we charge the company a one-time commission of 15% of the candidate's gross salary for the first year. For example, if a Manfredite signs a contract with a gross salary of €50,000, we will charge €7,500 to their new company.

Furthermore, we apply an initial fee of €500 for the first assessment, reality-check, and publicity in our job board and communication channels, which will be deducted from the 15% commission if the process results successful.

Of course! Just remember — we're not your average recruiters. Don't expect a pile of CV's. If we send you a candidate, it's because we truly believe they're just right for you. Not only because they have the skills you're looking for, but because their objectives are in sync with yours.

Read the FAQs below to get an idea how we work, and don't hesitate to <mail>send us an email</mail>. We'd be delighted to talk with you!

Yes. Temporary exclusivity means that during at least a month we'll be the only recruiter looking for the right candidate to fill a vacant position. Of course, this exclusivity doesn't preclude any CVs you might receive through your own webpage or recommended by an employee.

Working "on spec" (we only charge if you hire one of our candidates) is an option, but doing so without exclusivity is a rat race, in which speed trumps quality. That's a game we don't want to play.

A good first step would be to complete the contact forms. Then we should meet, in person or virtually, to determine if we're on the same page and it makes sense to work together.

Bear in mind, we're not a huge company -we're humans like you 😉-. Forgive us if our response time doesn't approach the speed of light. Each of our scouts works with a limited number of candidates / companies in order to provide the quality of service each deserves.

We hope you'll also try to put yourself in our shoes and not get too upset if we ask you to wait until we complete work already in progress. We don't want to say "yes" until we're able to provide you with the minimum quality levels we demand of ourselves.